Meet our group of Coaches who will be working on the development of new skills for the children.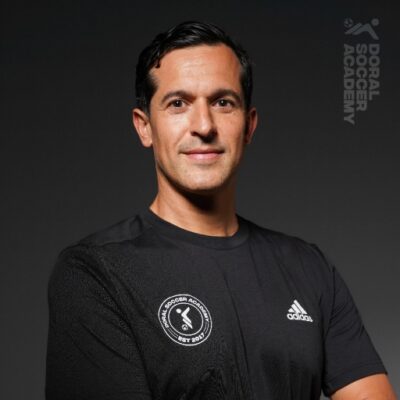 ROBERTO COLMENARES
Hi, I'm Roberto Colmenares, the heart and soul behind Doral Soccer Academy. My love for soccer started at a young age and has grown stronger over time, guiding my career and life in countless ways. Since earning my FYSA certification in 2015, I have had the privilege of working in various roles in the soccer world, from Physical Education teacher in schools to assistant college coach. But it was in 2017 when I decided to materialize my vision and found DSA. It's not just soccer that I'm passionate about; it's the lasting impact it can have on kids. I firmly believe in the power of sport to teach life skills beyond the field: teamwork, discipline and, above all, the value of perseverance.
I've put my soul into this project, and that is reflected in the passion and quality that each of our coaches brings to the table. I am 40 years old and the father of two wonderful children aged 10 and 4. When I'm not in the field, I enjoy participating in half and full distance triathlons, a passion that fuels my focus on discipline and physical performance. At DSA, each child is more than a number; they are a valued part of our extended community. We pride ourselves on our ability to adapt to each student, fostering both their love of the game and their personal growth. And this approach has proven to be effective. You don't have to take my word for it; I invite you to read our Google reviews, where parents and children have rated our program 5 stars. DSA's commitment to excellence is unwavering. I look forward to meeting your future champions and being a part of their journey to success, both on and off the field.
KEVIN SCOTT
As a coach, and also a soccer lover, I am very motivated to teach children first of all respect and companionship.
On the soccer side, I emphasize a lot on discipline and teaching in the best way, with a fun and effective learning, taking the child by the hand so that he/she can learn soccer little by little.
I believe soccer is a sport that helps you to grow personally, to have values and that is what I want to teach the children, values on and off the field.
One of my virtues would be the patience and love that I have in teaching the children, since many children are shy and you have to take it more calmly, and that is what makes Doral soccer Academy different and that is something that I think is great, that we do not exclude anyone, anyone who wants to learn soccer in a fun and healthy way will be welcome with pleasure.
Because soccer is more than just a sport, it's also a great way to make friends.
My message to parents is: bring your child, it will be a lot of fun, here we will treat them with love and respect and above all we will play a lot of soccer and do a lot of dynamics to make your child smile and leave happy.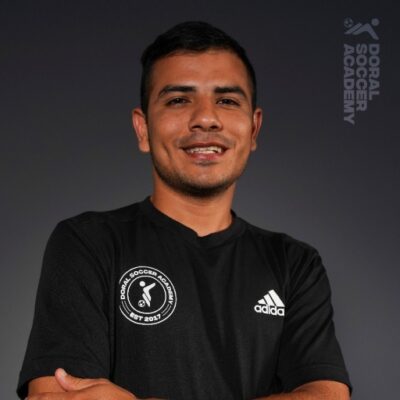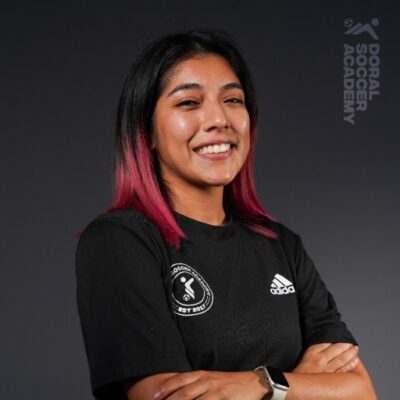 JENNY CASTELLÓN
Hi, I'm Coach Jenny! I am a young and cheerful woman passionate about teaching soccer to children. Optimism is my greatest trait and I find joy in coaching in a positive and fun environment.
My coaching philosophy is to help kids build a genuine love for the sport. I want them to come to Doral Soccer Academy and be excited to come back. I believe that once a child loves the sport, the desire to improve will come naturally, and we will be there to guide them through that growth. If there is one thing I want parents to know, it is that every child is different and every child is special. Children grow at their own pace. They have things they do well and things they can improve on.
As a role model in children's lives, my motto is to give them lots of positive reinforcement and remind them that the important thing is to give it their all at every moment.
ANDRÉS RODRIGUEZ
I've been in love with soccer all my life. Since I was 6 years old I played for the first time and I never stopped. Beyond being extremely competitive, I understand that soccer and what it teaches goes beyond a result or winning or losing. Learning to handle frustration, to better oneself every day, to fight against adversity, camaraderie, teamwork and sacrificing for the common good are some of the many things I try to instill in children through soccer.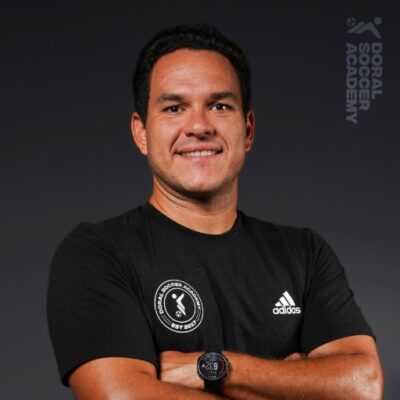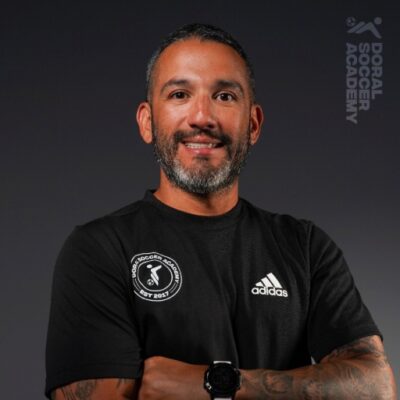 HERMES GALVIZ
Hi, I'm Hermes, a passionate soccer coach with extensive experience with the goal of transmitting my passion for this sport to the children and youth of the team. I focus my efforts on developing technical, tactical and leadership skills in my players, creating a positive and motivating learning environment. Throughout my years of coaching, I have honed effective communication skills, patience and empathy, which allows me to connect with my players on a personal level and understand their individual needs.
I believe in the power of teamwork and foster a spirit of collaboration among my players so they can achieve their athletic and personal goals. My dedication and passion for soccer is reflected in every training session and match, and I take pride in watching my students grow and develop their potential on the field.